SteinMedia
Jan 14
(Source: sheetofnight)
Apr 18
Skinny Love
Skinny Love… Gets me every time.
http://open.spotify.com/track/0zP8BJOamm7Q9aNMwCby55
Mar 23
Every Marketers Ultimate Goal -
As a marketer, you can create an amazing website, build promotional campaigns, customize your social media pages, write amazing blog posts and on and on. All that work can actually be a lot of fun. But who wouldn't love to sit back sometimes and let someone else do your job for you? Not in the budget? What if you could hire someone that your audience trusted more than you, and they were willing to work for free while you got paid? It's not a scam or a pyramid scheme, it's called word of mouth. Like most good things, it doesn't come easy. This is something you have to earn. 
Here's a great example of a managed windows hosting provider who earned it. One of their clients created this blog post completely on their own initiative, because they believed in their service provider. The amazing thing here is that audience doesn't have to second guess this information since their is nothing for the writer to gain. This is a win-win for both parties. The service provider gets free publicity and the company that wrote the blog knows the service provider will appreciate them even more.
The catch here is that it takes a great company, not a great marketer, to achieve this goal. You can say all the right things, create incredible content, reach the perfect audience, but if the company you're promoting cannot reinforce your message, you'll be fighting a losing battle as long as you try. If you want to succeed in marketing, find a company you believe in, one who believes in a finished product they can put their name on. If you find this company, the marketing will almost take care of itself.
Don't worry, you'll still get to have fun refining your website and writing killer blog posts—that will only add to the fun of watching the word spread, and give more material for your loyal audience to share. 
I've come to trust a number of great businesses, and am personally willing to "spread the word" that they stand behind their message. One such company I will be writing my own follow-up post on is a custom web solutions provider—but I'll wait until next time to share more. 
Until then, happy marketing!
Jan 30
Troubled Waters Documentary Film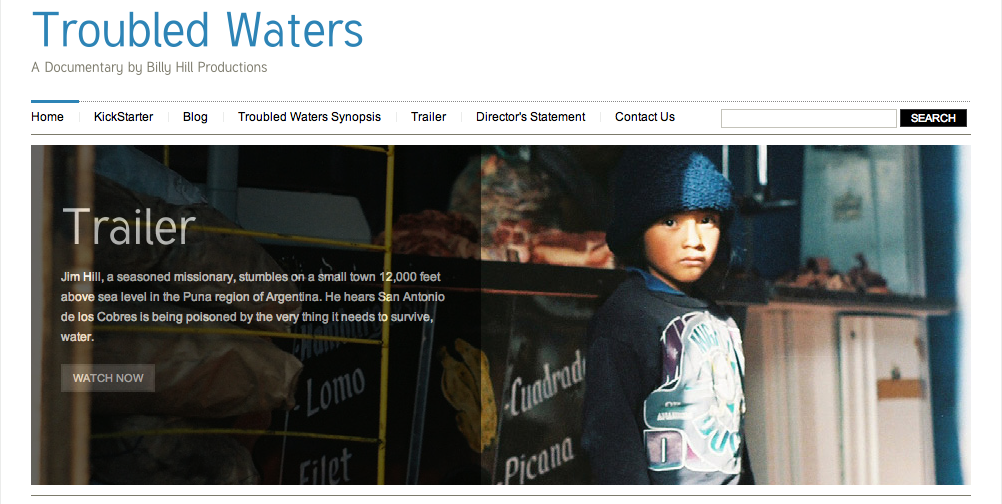 In 2007 I began working on what started as a friend's film-school project. Five years later, Troubled Waters is a feature-length documentary in its final stages of post production. Today, the last scenes were added to the rough cut.
Synopsis:
Jan 25
This is actually the craziest chart about Apple following their insane earnings today.

There is exactly one company on that entire list that is not an oil and gas company. And they're not that far from the top. 
Dec 14
A 2880x1800 Resolution MacBook Pro? -
No clue if the timing (Q2) that DigiTimes is reporting is correct, but the idea sounds about right.

As previously discussed, the MacBook Air has become so good that it's going to continue to eat into MacBook Pro sales. Apple needs something to differentiate the Pro — especially if there is a 15-inch Air. That something could well be a laptop with a "Retina" display. 

It's important to note that when you typically hear about higher resolution screens, it generally means smaller elements on that screen. But if these screens are double the resolution of current models, Apple could do what they did with the iPhone (and soon iPad) screen, leaving the scale the same while greatly increasing the pixel density.

The drool is already dripping on keyboards of Photoshop and Final Cut users.
Nov 18
Creating a Social Marketing Schedule -
Business owners are often overwhelmed or confused by social media marketing. John D. Leavy of Entrepreneur.com offers a helpful strategy for maintaining the perfect balance between social pest and absentee business-owner. With the launch of Action Words, my new business, I am excited to include social media assistance as one of my services. With more than 400 million users on Facebook alone, businesses and nonprofits can benefit from social media now more than ever.
Nov 16
Spreading the word.
HTML5: Adobe and Microsoft Respond -
Adobe's recent announcement to back off Flash for mobile hit the news rather hard. Well, today we learn Microsoft is rumored to be halting development on the Silverlight plugin following their next release.
This is just another sign of the future of rich media on the web.
The fact remains, however, that the future is still a ways off. Flash remains the predominant way in which video is consumed online and many developers maintain their loyalty to its many capabilities.
I don't believe we're ready to abandon ship just yet, but I do foresee a major shift, one much larger than what platform we use to publish videos. I'm talking about the way content is made available, be it eBooks, video tutorials, art or music. My recent post on the Kindle Fire touches on this topic as well. We are entering an age where content is king and anyone can publish their content in ways we never imagined. It's anyone's game on a playing field where everyone has a chance to bat, and that is exactly where we are heading.
Nov 15
Kindle Fire: Is It Time To Publish Your Book? -
The future of struggling authors is looking a little brighter. The invention of the Internet brought a soapbox for all those artists, writers and musicians who couldn't get their break.
The next step in a long series of innovations for the voiceless to speak is out, the Kindle Fire. 
The Kindle Fire is an improvement on innovation (the tablet), but this one in particular means something significant for authors. This new tablet from Amazon is in full color. It's more interactive than ever. Authors can design books with rich media, links to websites or blogs, references to other sections of the book and on and on. It's no longer about words on a page, it's a rich, completely interactive experience. And you have an invitation to create that experience for your readers without a publisher.
Author and marketer David Meerman Scott just published his book  Newsjacking:  How to inject your ideas into a  breaking news story and generate tons of media coverage as an eBook only. This is a bold move and a sign of things to come.
Self-publishing used to mean taking your book with you to speaking engagements or displaying it in your storefront. Today it means utilizing the power of social networking to literally reach the masses, all at the click of a button. 
Do you wish to publish that great work you thought would never be picked up?
It will be the lone authors, the self-publishers who take a large piece of the pie this time. A whole new world is opening up, and you are at the front of the movement. 
Contact me here to discuss your options for self-publishing through eBooks.